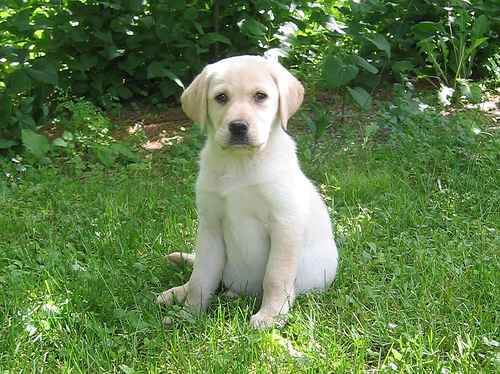 The Labrador breed is said to have originally hailed from the Canadian Province of Newfoundland and Labrador, and was used primarily aboard fishing boats to gather fishermen's nets by jumping overboard from their ships.
Today, Labradors are one of most popular, if not the most popular dog breed in the United States and the United Kingdom, and are commonly referred to simply as "labs".
Labradors have gained in popularity due to their very friendly disposition, and their ability to get along with everyone from strangers to small children and all types of other pets. They are intelligent dogs that enjoy swimming, hunting, playing fetch, assisting the disabled, or just cuddling up with their owners.
This medium-sized, muscular breed comes in white black, yellow, chocolate, silver, blue, gray, charcoal, and "Dudley", and features a straight, dense coat, and a thick tail.
Famous labs include "Buddy", the chocolate Labrador owned by Bill Clinton and Koni, Russian President Vladimir Putin's Labrador Retriever.
Pictured above is a Yellow Labrador Retriever puppy.