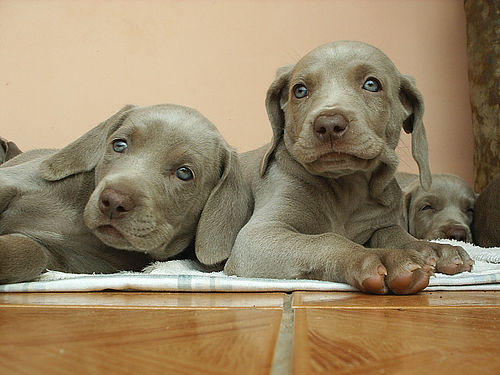 If you're in the market for a new pet, you'll probably look to the Internet first to find breeders, pet classifieds sites, and the like.
The Internet is filled with sites offering pets for sale, personal breeder websites, pet shelters, pet organizations, and more.  While these sites can be extremely helpful, make sure you take caution before buying anything, as the Internet is also riddled with scams and fraud.
Scams and Fraud
There are a number of scams involving the sale of pets online, often involving scam artists from Nigeria and other African nations, as well as Eastern European nations, Asian nations, and even here in the United States.
These people spend much of their time in front of the computer, creating classified ads for pets that simply don't exist in an effort to coax potential buyers into sending payments and payment information.  Once payment is received these people vanish and move on to the next victim.
Luckily it's fairly easy to avoid 99% of these scams by simply avoiding contact with people that don't reside in the United States.  On the same token, you should arrange to meet the seller in person and view the pet before buying it.
Don't you want to see the pet you're buying anyways?  Pets are lifelong companions, and shouldn't be purchased on a whim.
"Too Good to Be True" Deals Are Likely Scams
It may seem like an amazing deal, but likely it's a scam.  If you see an ad for a pet being offered at price well below the market price, there's a good chance someone is trying to lure you in and take your money.
Scam Artists Target Popular Breeds
Watch out for popular breeds as well.  Scam artists target high profile breeds such as Yorkshire Terriers, Bulldogs, expensive birds, exotic animals, "fertile eggs", and anything else rare or en vogue.  If you're looking for a popular breed, make sure you take extreme caution as you'll likely come across a few scam artists when searching for a pet online.
At the same time, it's not completely unheard of for a scammer to list a less desirable breed, so always take caution.
How to Identify a Scam Artist
The good news about pet scammers is that they're usually easily identifiable.  Most of them will tip themselves off by using broken English, or using strange words that are more common in other parts of the world.
They will likely come up with a fake "American name" such as "Frank Jones" or something they think sounds familiar to us.  You will be urged to act quickly and rush into the purchase.
There's a good chance the only pictures you'll see of the pet will be stock photos that they copied from a website online, and you'll never see the seller or the pet in person.
A scam artist may also list their pets for "adoption" or as "free" as a way to entice potential buyers into thinking they're getting a special deal.
Do note however that scammers can be American as well, and may be perfectly fluent and seemingly friendly and intelligent, but they can and will scam you.  And even if they are foreign, they can easily copy and paste another classified ad to make their ad more believable and genuine.
Avoid These Methods of Payment
The method of payment offered by many of these sellers will be limited to Western Union or Moneygram, or a similar money wiring service.  Never wire funds!  And never share your personal information, including bank details, Paypal info, social security number, or any other sensitive information.
Also watch out for escrow service, shipping, down payment, or a "guarantee".  These payment methods can get you into trouble as well.
Example of a Typical Scam
One typical example would be a classified ad offering a popular pet breed such as a Yorkshire Terrier, or "Yorkie", listed for $150, being offered by a missionary from a pet sanctuary.
The first thing to look out for is the price.  The going price on this breed is typically several hundred dollars, if not $1000 or more, so anything significantly less would be a huge red flag.
Also read the ad carefully.  Look at the story (if there is one).  Does it make sense?  Is it too elaborate?  Are the sellers desperate?  Are there typos and grammatical errors that make the ad less trustworthy?
If you do respond to the ad, there's a good chance the seller will be in an extreme rush, and will tell you the puppy is available now but must be shipped or a down payment must be paid, or something similar.
Avoid and Report all Scammers
If you notice anything peculiar, stay away from the seller.  Do not respond to their e-mails or stay in contact with them.  The absolute best way to avoid a scam is to meet the seller in person!
If you do fall victim to a scam or simply want to report one, contact the FTC (toll free hotline: 877-FTC-HELP (877-382-4357) or the Internet Fraud Complaint Center.  Alternatively, you can contact your local police department if the scam artist is local.
(photo: emarquetti)